For today's episode we will be reviewing three articles from the July-August 2020 issue of Allergy Watch, a bimonthly publication which provides research summaries to College members from the major journals in allergy and immunology. You can also earn CME credit by listening to this podcast! For information about CME credit or to read archived issues of Allergy Watch, head over to https://college.acaai.org/publications/allergywatch
Please watch out for continued discussion on this topic in the ACAAI Community on DocMatter, we'll have key takeaways with the opportunity for ongoing conversation about today's topic!
Article links:
Prevalence and impact of comorbid laryngeal dysfunction in asthma: A systematic review and meta-analysis.
Trends and Disparities in Asthma Biologic Use in the United States.
Treatment Effect of Omalizumab on Severe Pediatric Atopic Dermatitis: The ADAPT Randomized Clinical Trial.
Please rate our podcast on iTunes!
Please give us feedback, corrections, and suggestions!
Email feedback to: allergytalk@acaai.org
Today's speakers have the following disclosures:
Drs. Lee and Kalangara have nothing to disclose.
Dr. Fineman Speaker: AstraZenca, Boehringer Ingelheim, Shire; Research: Aimmune, DBV, Shire, Regeneron.
We're pleased to introduce CME credit for this episode of AllergyTalk! Get credit for this episode.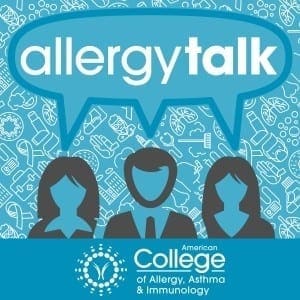 ACAAI presents this podcast for educational purposes only. It is not medical advice or intended to replace the judgment of a licensed physician. The College is not responsible for any claims related to the procedures, professionals, products or methods discussed in the podcast, and it does not approve or endorse any products, professionals, services or methods that may be referenced.